United Kingdom (1998)
London Calling! I landed and popped up to Cambridge (picture 1) to meet a friend from China. I checked out the crewing, but did not participate. The campus and buildings were exactly what you imagine them to be. The evensong in King's College Church was almost enough to convert me:)
Salisbury was a few trains away and Stone Henge (pic 2) was a short ride from there. Well, the rocks were big. It was, I dunno, Stone Henge? You can't get close any more, so I couldn't touch the true power, but I am trying to cut down on my supernatural experiences anyway. I missed the last bus back to Salisbury, and I cursed myself for buying a round trip ticket. I smiled a bit and got a hitch back to the city, so I was able to make the Hash Run. The Haunch of Venison Mountain Rescue Crew Hash folks were really nice. I was sad to leave, but luckily for me, their 750th Hash Run was that Saturday and they invited me back for the fun. I dashed off to Avebury (larger, spread out Stone Henge type of thing…with a mound, a burial site and a crop circle (pic 3) to boot) and was in Bath by evening.
Bath is a truly beautiful city (pic 4). The architecture and city plan is almost fairy tale in reality. The baths are all closed, but the city is alive. After a trip to the grocery store, I spent the early evening sitting on a park bench with all my goodies, eating my fill and drinking a little bit more than mine. I got a good look at the city the next day before bussing it down to the little Bradford-upon-Avon. There are so many river Avons in England (about 9), you can really get confused. Beautiful town, but I had to get back to Salisbury to get ready for dancing.
I landed at my bed and breakfast, cleaned up and looked at the advertisement of the bar I was going to meet a fellow hasher that evening. It indicated that it sold food, so I rummaged around until I found my nicest/coolest shirt, hung my clean Levis from my belt and laced up my wingtips. The nice guy at the empty disco told me that about 10pm people might show up. Burger King and a pint at another pub kept me busy until 10. Of course, when I went there this time, they mentioned jeans weren't allowed, but it really didn't look like anyone was there anyway. The other sleazy, slimy folks with non-jean pants were let in, but I was sent home to change. Eventually, I was there with my new friend and her friends. It was a great time with decent music.
The next day, I took the tour of the amazing Salisbury Cathedral (pic 5). This is the most impressive cathedral I had ever been in. Not for sheer size, height, windows or beauty, but a combination of it all and a feeling that everything fit…that everything was balanced. I walked over to another hasher's house to get a ride out to the run. The first 2 hours of the run were great, but the other 45 minutes were me stumbling along, trying to survive. In the middle of the run, we stopped for beer and games. Tall Paul and I won the egg throwing contest, me being the last to "catch" the egg, so I finished the run with a little yoke. The beer afterwards and the dinner were very welcomed. The next day's run was shorter and had some water balloon fights.
It was time to see some more of England, so I blitzed Cantebury Cathedral (pic 6), which was a tacky collage of thrown together stone, plaques, statues and dedications before making it down to Dover. The white cliffs and Dover Castle (pic 7) couldn't wait until the next day, so I raced up the mountain and caught the last tour, so I could head off to…lovely Leeds Castle (pic 8), Cambridge again and London for the typical tourist stuff. I sat in on some Parliament (pic 9) crap. The House of Lords were complete wanks, with one guy going on and on about air travel and its direct connection with heart attacks. At least the House of Commons guys were whining about the EC. The churches, London towers and all the goodies were quite British. St. Paul's Cathedral was gigantic, impressive, but did not have the style of some others. I even took in another Hash Run before I said my farewells to the Limees and headed home.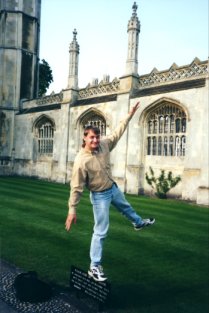 Return to Text
Cambridge


Return to Text
Stonehenge
Return to Text
Crop Circle
Return to Text
Bath
Return to Text
Salisbury Cathedral
Return to Text
Cantebury Cathedral
Return to Text
Dover Castle
Return to Text
Leeds Castle
Return to Text
Parliament
Return Home
Return to Top of Page